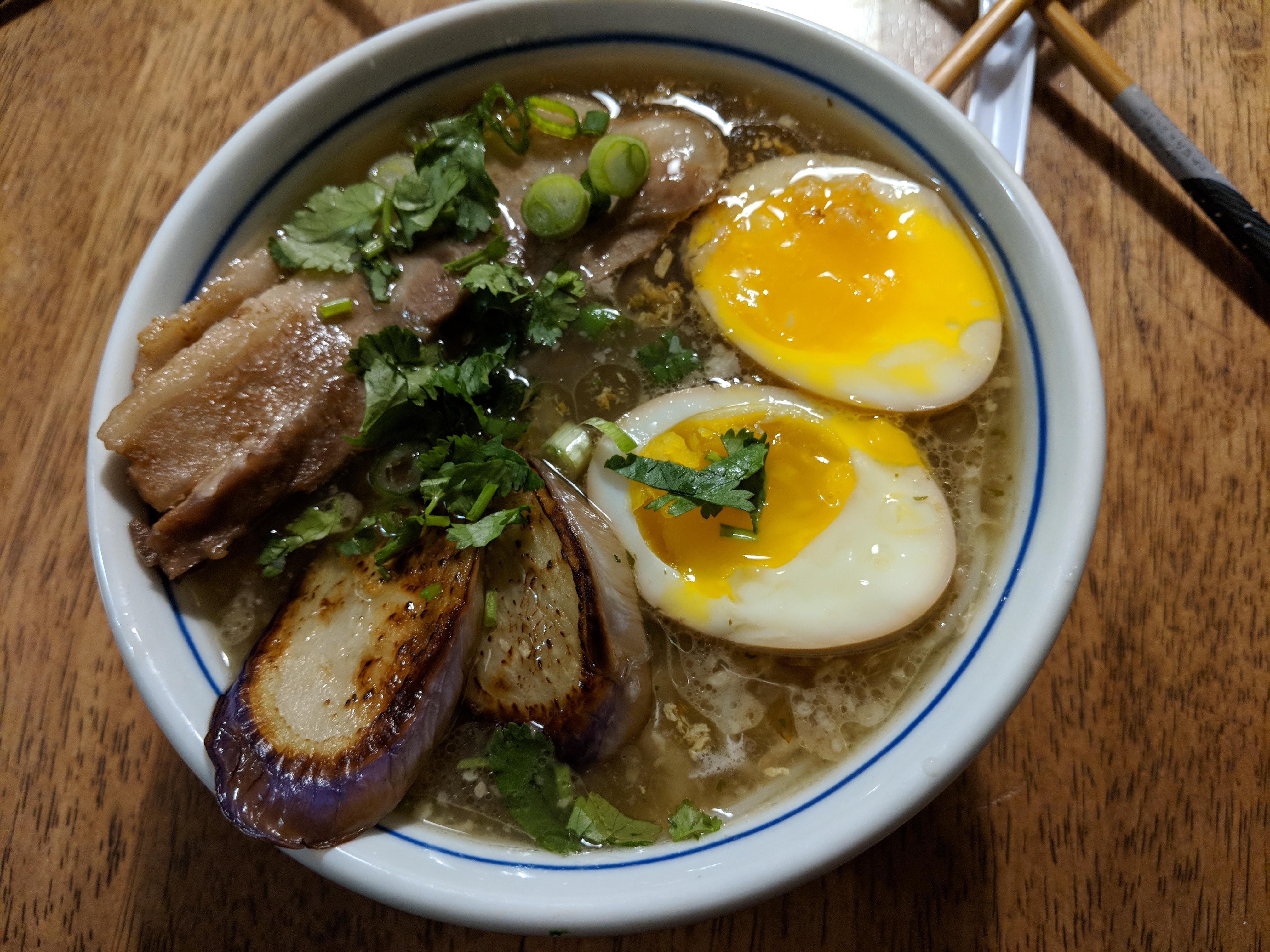 Some directions missing; will update and add more pictures as I have time.
Components:
Broth
Tare
Garlic/Onion Oil
Soy Egg
Pork
Noodles
Toppings
Schedule:
Broth the night before
Eggs the morning of (Needs ~6hrs to marinate)
Pork ~3hrs before
Everything else the hour or so before
Noodles right before
Broth
Ingredients:
2lbs of beef bones
2lbs of chicken leg quarters
5-6 dried shiitake mushrooms
shaved bonito flakes
dried sliced seaweed
2 medium onions
6 or so cloves of garlic
Directions:
Use a 6 quart crockpot. Peel garlic and onion and slice onions into quarters. Put all ingredients into crockpot and turn on low. Fill the crockpot to the top with water. Simmer for 24 hours.
Soy Eggs
Ingredients:
6-8 eggs
Sugar
Soy sauce
Rice vinegar
Mirin (Japanese cooking wine)
Directions:
Boil a pot of water and put eggs in for 6min and 10sec. Cool quickly. When eggs are cool, peel and then put in the marinade
Garlic Oil
Ingredients:
1/2 cup of olive oil
2-3 cloves of garlic
Directions:
Fill a cast-iron pan with olive oil and then add the garlic finely minced. Heat on low (careful it doesn't burn) until the garlic pieces have a slightly toasted color.
Ingredients:
3 Scallions
1 bunch of cilantro
Toasted Sesame seeds
Eggplant (Possibly Chinese eggplant)
Directions:
Thinly chop scallions and cilantro and put into separate bowls for later. Slice eggplant into small 1/4-1/2" thick pieces. The pieces shouldn't be too large (That's why Chinese eggplant can be easier. Fry the eggplant in a cast iron pan in olive oil. Set aside in a bowl for later.